HOW TO FIT YOUR SPORTS BRA
Besides being the go-to bra for everything from workouts to weekend lounging, sports bras give us support and structure to minimize bounce and keep us comfortable. When we're in our best fit, sports bras help us keep our minds on the game, run or pose.
HOW TO FIND YOUR CORRECT BRA SIZE
An ill-fitting sports bra is not only unhelpful, it's uncomfortable. To find a sports bra with the right amount of support, you first must know your correct everyday bra size.  
Studies have found that 80% of women aren't wearing their correct bra size. Luckily, you don't need a tape measure to figure out your best fit. All you need is your regular bra and a mirror or a friend to check how your band and cups fit. Here's what to look for: 
First, see how the band fits.
If the band rides up your back, your band is too loose and is not providing enough support. If this is the case, decrease your band size.
If the band digs into your back, your band is too tight. In this case, increase your band size. 
If your band feels snug but not tight, you are wearing the correct band size. Leave as is.
Next, check how your cups fit, then match with your band fit to find your correct size. If your breasts have extra room inside the cups, your cup size is too large.
If your breasts overflow at the edges of the cups, your cup size is too small.
If the cups fit around your breasts and there's no overflow or gaping, your cup size is correct.
If your cups fit correctly and your:
Band is too loose and rides up, increase your cup size and decrease your band size.
Band is too tight and digs in, decrease your cup size and increase your band size.
Band fits correctly, you're in the right size.
THE RIGHT SUPPORT FOR YOUR SPORT 
Now that you've checked your bra size, consider what you'll be wearing your sports bra for. Some women like having a small arsenal of sports bras—with a range of support for their various sports and activities—and others rock just one. Whatever you do it great as long as you feel comfortable and supported.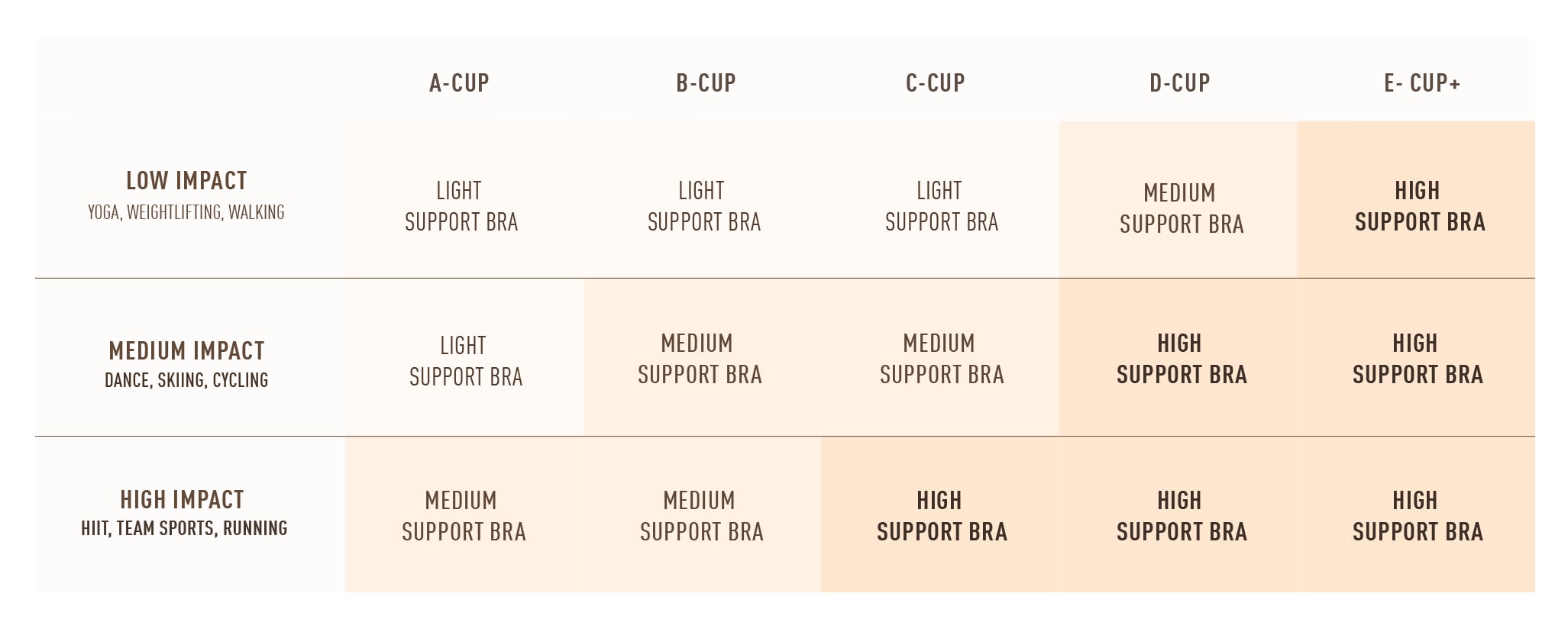 SPORTS BRAS: FIT & FEATURES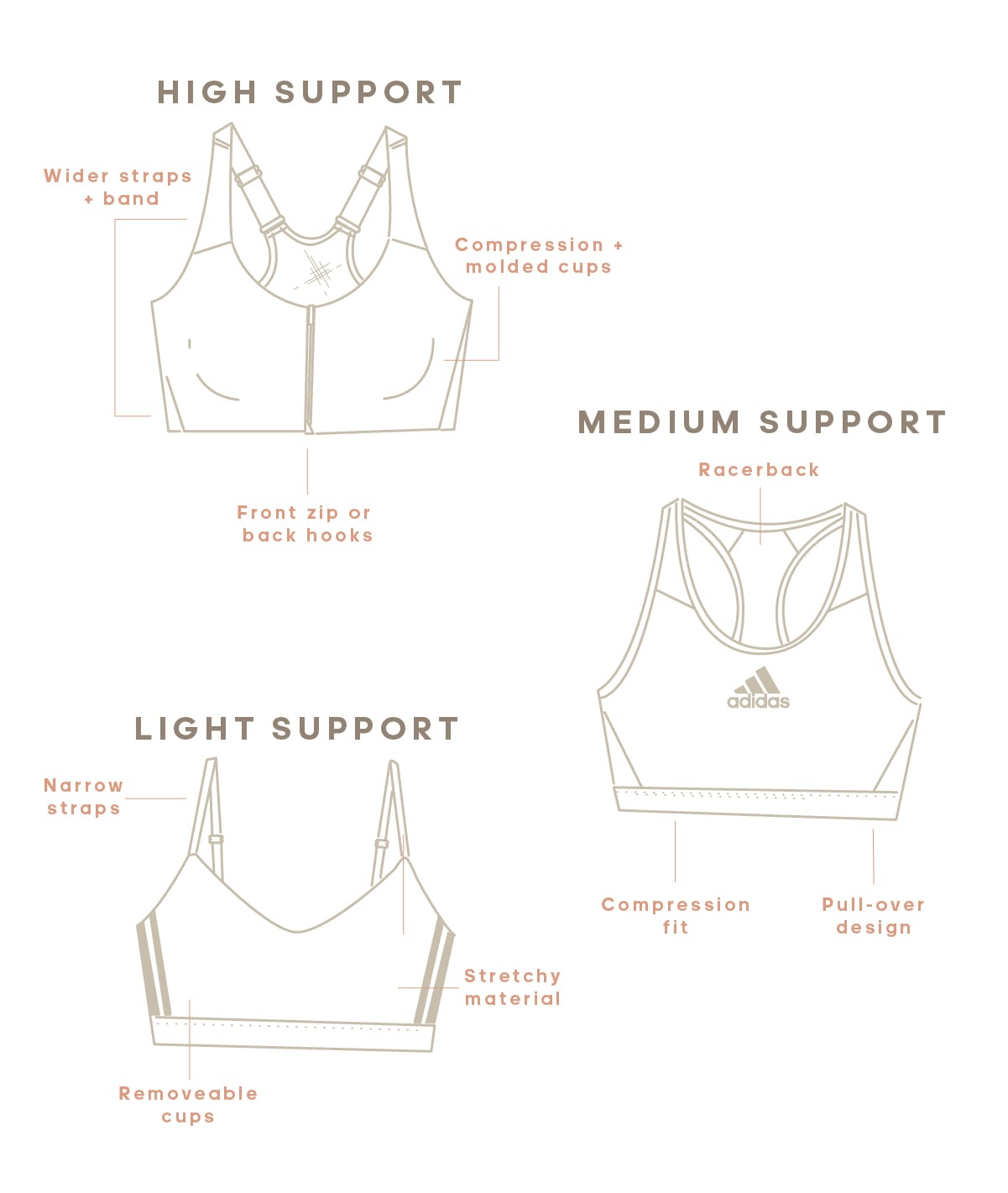 COMPRESSION: Great for small to medium cup sizes, compression-fit bras hug breasts to the body for a close-to-body feel. These tend to be made from stretchy, moisture-wicking fabric.
ENCAPSULATION: Especially beneficial for women with fuller cup sizes, encapsulation-fit bras support each breast separately. These sports bras elevate the everyday bra style with movement-friendly design and materials.
HYBRID COMPRESSION/ENCAPSULATION FIT: Often found in sporty racerback styles, combination bras offer the support of encapsulation fit with the activewear look found with compression-fit bras.
BANDS: When fitted correctly, the band provides most of a sports bra's support. The band should fit snuggly and should not ride up your back. For more support, look for a wider band. Some sports bra bands are made with brushed elastic or other sweat-wicking material.
STRAPS: Adjustable straps allow for a customizable fit, while stationary straps are often paired with a pullover design for a compressive fit.
MOLDED CUPS: Molded cups add shape and coverage and help prevent uni-boob by providing definition.
PADDED CUPS: Padded cups follow the natural shape of the breast that keep you covered and provide added form. Often lightweight and breathable, removable pads dry quickly and can be cleaned easily.
CLOSURES: Some sports bras feature a pullover design without clasps or hooks. But others come with back or front closures for easy on and off. High-support sports bras and sports bras for fuller breasts most often come with front or back hook-eye clasps.
UNDERWIRE: Flexible underwire provides added support and shape to sports bras.
TARGETED STABILITY: Stabilizers on the front straps reduce bounce and provide additional support.
MOISTURE-WICKING MATERIAL: Mesh lining brings extra breathability to your workouts.
VENTILATION: Placed in high-sweat zones, mesh material provides breathability to keep your body cool during high-heat workouts.
SPORTS BRA FREQUENTLY ASKED QUESTIONS
What's a sports bra?
Besides giving you go-to support and comfort for everything from workouts to weekend lounging, sports bras provide structure to minimize bounce and keep breasts stable during all athletic activities. When fitted correctly, sports bras reduce discomfort and improve focus.
What does impact mean?
Impact is the intensity of your activity: Yoga and Pilates are considered low-impact sports, while jogging and intense daily doubles are considered high-impact. Sports bras have traditionally been organized by impact, but size is just as important as impact when fitting your bra.
What is support and why is it important?
Support is the level of structure your breasts need to stay stable while moving—because different breast sizes require different levels of support depending on the activity, support level is the best way to determine what bra you need. To find the right support, consider your cup size as well as your activity or sport.
Is it ok to wear a sports bra all the time? 
As long as you feel comfortable in your sports bra, feel free to wear it as much as you like. Remember to change into a clean sports bra after working out for comfort and to reduce any risk of chaffing.
Is it bad to wear a sports bra every day?
If you are comfortable and your bra fits you correctly, wearing a sports bra every day is considered safe.
How tight should a sports bra be?
A sports bra should be snug, but not so tight it cuts into your skin or causes discomfort.
How do you know if a sports bra is too small?
If your sports bra is leaving marks on your skin, cutting off circulation or making it hard to breathe, your sports bra is too small. Depending on where your bra is causing discomfort, your band, straps or entire bra could be too small. Consult our size guide above to find your correct size.
How do you know if a sports bra is too big?
Your sports bra is too big if it feels loose in the band, the cups or the straps. If the band rides up in the back or if you have extra room in the cups, use our size guide to size down and find your correct fit.
Which bra is best for the gym? 
The best bra for the gym depends on your workout and your cup size. These two factors influence the level of support you need for a comfortable workout. Are you lifting weights or doing yoga? Depending on your size, you may need a light, medium or high-support bra. Running on the treadmill or taking a HIIT class? You might need a more structured medium or high-support bra. Learn more about high-support, medium-support and light-support sports bras and where you can find them. See below links.
Should a sports bra leave marks? 
If your sports bra leaves marks, it could be a sign it's too tight. If your bra leaves marks on your shoulders, it could mean that your straps are too tight. It could also mean the band is too large, causing your shoulders to carry too much of the weight of your breasts. If your bra leaves marks on your back or sides, it's likely your band is too tight. Marks on your breasts indicate that your cups are too small. Try loosening your straps or sizing up in either the band, the cup size or both.
Should I wear a bra over my sports bra? 
It's not likely that you'll get any benefit from wearing a bra over your sports bra. If your breasts don't feel supported with your current bra, consider finding a bra with more support—such as a sports bra with molded cups, underwire or adjustable straps—or check that your bra fits correctly. Refer to above section: HOW TO FIND YOUR CORRECT BRA SIZE.
It hurts after I work out in a sports bra. What should I do? 
You could be feeling pain after a workout if your sports bra does not fit correctly or if you're not wearing a bra with the right support for your activity. If you are feeling your bra cut into your back, shoulders or breasts, it is likely your bra is too tight. If you are experiencing pain or chaffing after working out, your bra could be too loose and failing to support your breasts. Consult our fit guide above: HOW TO FIND YOUR CORRECT BRA SIZE.
LEARN MORE:
Stay Updated
Be the first to know all about stories, launches and events.