WHEN PRESSURE BECOMES POWER: INTRODUCING THE GAME-CHANGING INDOOR CYCLING SHOE FROM ADIDAS
Taking you behind the scenes of the design process for this stylish, lightweight shoe, that's specifically enhanced for indoor use and performance to help cyclists take it to the next level
Indoor cycling has undergone a rapid transformation in recent years. What was once a useful, but let's be honest, a little boring, way to train when the weather was bad, is now a super-fun discipline in its own right.

Nowadays spinning classes and gyms are popping up everywhere, largely thanks to the growth of multiplayer online cycling games and training programmes such as Zwift. The indoor cycling party is raging...

Until now, riders hadn't been spoilt for choice in the footwear department, with many cyclists improvising by wearing outdoor shoes - which is far from ideal. Shoes designed to help keep out the elements inevitably cause your feet to overheat when you cycle hard indoors, which isn't great. And those who try to get by with trainers and toe straps, don't get the power and pedal connection for peak performance.

But that is all set to change with the launch of the adidas Indoor Cycling Shoe, a breakthrough product which promises to revolutionise the indoor cycling experience.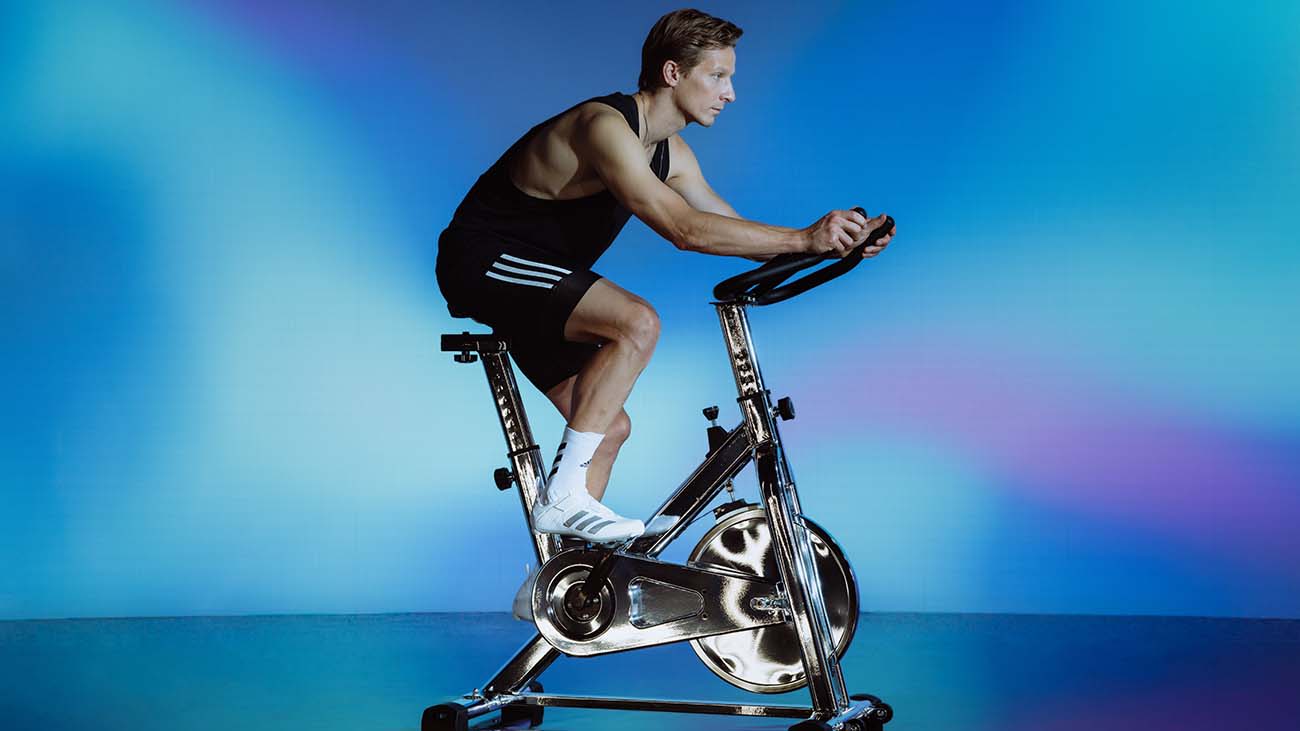 Indoor Cycling: A different world with different needs
Saul Maret, Global Design Director of adidas Cycling is a passionate indoor cyclist. He was one of the first users of Zwift and in winter rides an average of 8-10 hours a week indoors, regularly entering virtual races and criteriums after work. His expertise within the indoor cycling world made him the perfect person to head up the design process of the Indoor Shoe.

"Indoor cycling is a different world to outdoor cycling," he says.

"There is this fun social and community aspect that really motivates people to keep moving and work harder. But it's also a sport with a completely different set of needs."

The adidas team wanted to create a lightweight Indoor Shoe that spoke to those needs and solved the problems that he and other riders experienced while using outdoor cycling shoes inside.
Go with the flow
The biggest problem indoor cyclists face is that it gets very hot when you're exercising inside at such a high intensity. "Pro road cyclists might be used to it but if you just do indoor, you want a product that has better heat and sweat management," says Saul. "That's why we created two big open mesh windows to enable ventilation in the shoe by allowing air to come in, and used a thin, perforated, synthetic tongue." Features you couldn't have on an outdoor shoe without ending up with soaking wet or completely frozen feet.

To achieve the best possible circulation of airflow and breathability, Saul and the team tore up the rule book and used a fresh and innovative design approach. He explains: "Normally we have designers and sketch teams producing small doodles and drawings but this time we worked directly with 3D engineering and advanced visualization tools."

"We knew where the air had to enter and go out, and from there we started to play with the 3D tools to map the hole placement and their shape, and where we'd put the lacing system. It was the first time we've used 3D in that way at adidas Cycling and it was really interesting and helpful in terms of visualisation."

The concept of airflow inspired the Indoor Shoe's aesthetic too. "Cycling is about revolutions, the movement of the wheels going around and round, so we brought that flow into the shoe design," says Saul. "The lines on the shoe are not straight, they are flowing and organic. They express what it needs to be – a product that lets the air flow within the shoe."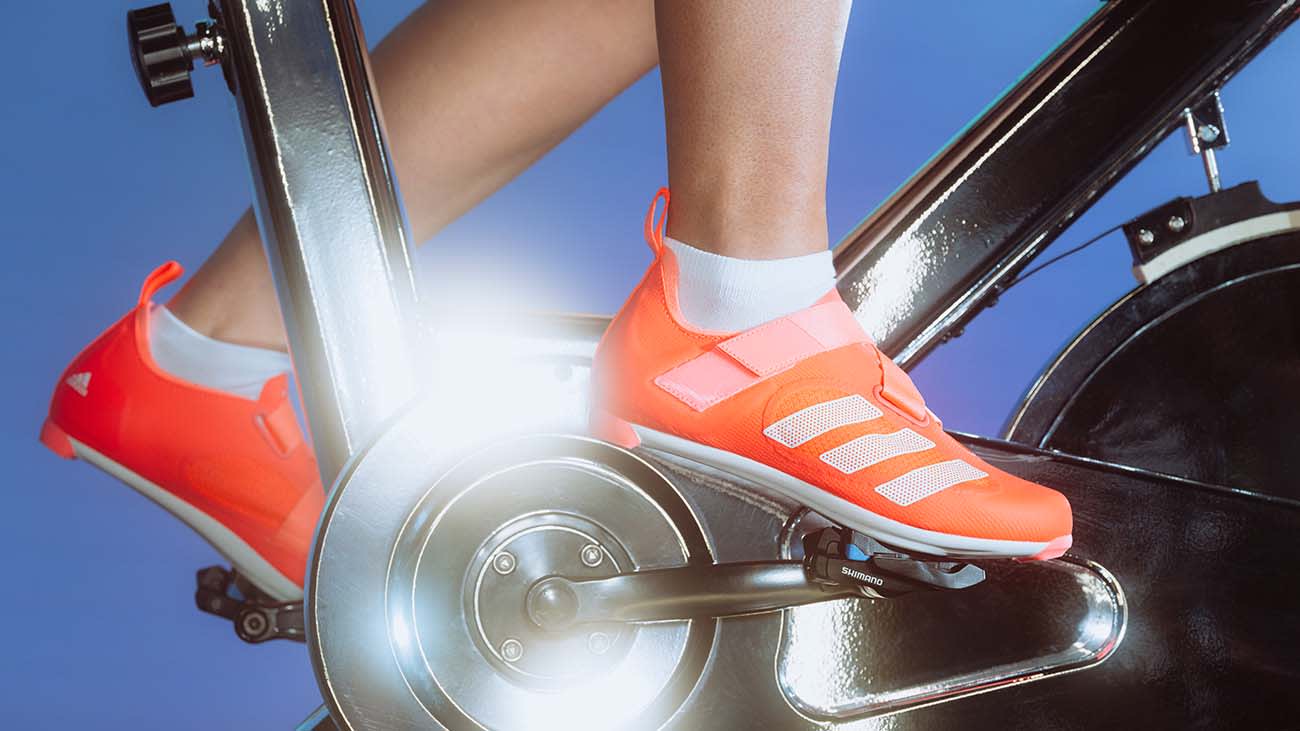 An Indoor Shoe for all cyclists
Indoor cycling has a wider audience than road cycling, so Saul and the team wanted to make a shoe that was welcoming and accessible to all cyclists, regardless of their level or previous experience on a bike. The rounded, flowing lines and soft, comfortable feel were part of that vision, as was the Velcro fastening strap.

"In outdoor cycling, many of the closure systems are very technical and complex to use," says Saul. "We wanted to make something much simpler. To ensure easy entry and adjustability, and to accommodate all shapes and sizes of foot comfortably. The comfort aspect was so important for us when designing the indoor shoe."
When pressure becomes power
But that emphasis on comfort and accessibility hasn't come at the price of power or performance, which has always been at the forefront of Saul's mind, as a designer but also as a hyper-competitive indoor cyclist himself.

"For the ones who are truly pushing it, Alexander Bach, development Lead for Indoor Cycling, wanted to work on how to lock the heel in when you're pedalling very hard. Inside each shoe he added two heel pods to really secure your heel when you're putting in the watts," he says. "It's designed to keep your foot firm so you can focus only on your effort".

The Indoor Shoe also has a 3-bolt Look pedal clip system, the golden standard cleat system for road cycling, and now indoor cycling too.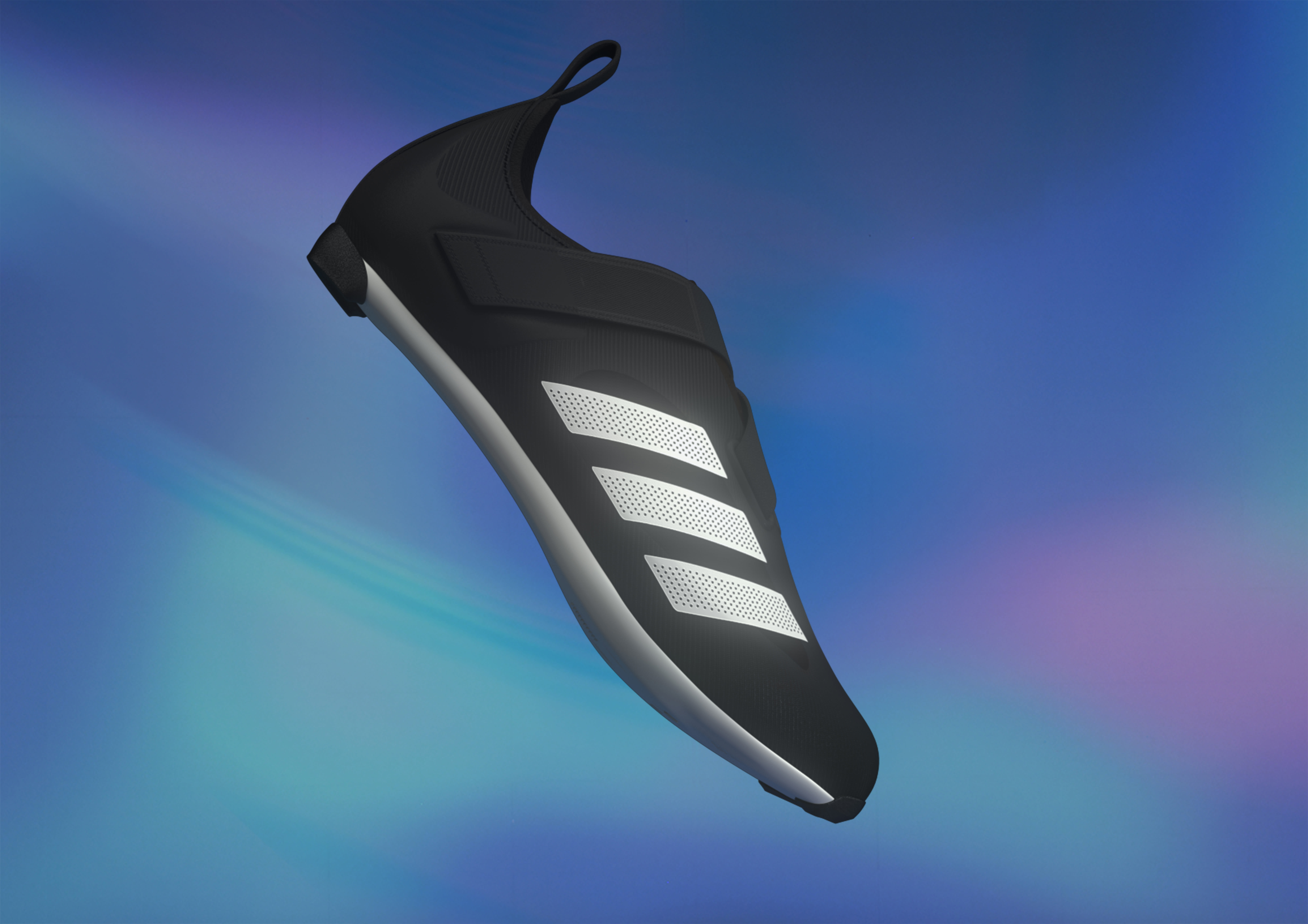 Stylish and innovative
The materials of the adidas Indoor Cycling Shoe were a crucial part of the design process. The shoe's upper is made in part with recycled materials and represents just one of our solutions to help End Plastic Waste.

Cycling shoes often stick to the same safe, muted colour palette but the Indoor Shoe wouldn't be an adidas product if it didn't also look the part. "We wanted to design with colourways that bring contrast from far away," says Saul. "People are going back to gyms and we wanted to have that bold contrasts but also the bright executions you can find there, to be more impactful and expressive than people might expect from a cycling shoe."

"adidas has such a broad cultural heritage in sport and we wanted to blend that into this new activity. To highlight the stripes, but also create an innovative product that is truly our design identity When you look at the Indoor Cycling Shoe, you can see it is adidas."

Why not clip in, push off and see for yourself?
Stay Updated
Be the first to know all about stories, launches and events.