HOW TO CHOOSE VOLLEYBALL SHOES
Whether you're playing volleyball professionally or recreationally, your go-to pair of trainers won't hit the mark. You'll need a pair of volleyball shoes that are built for the game. The right pair of volleyball shoes can handle your nimble shifts in direction, boost dynamic movements and support you through every leap and jump. Read on to find out what type of shoe is best for volleyball in this in-depth guide by adidas Category Director for Court Sports Footwear, Daniel Neuerburg.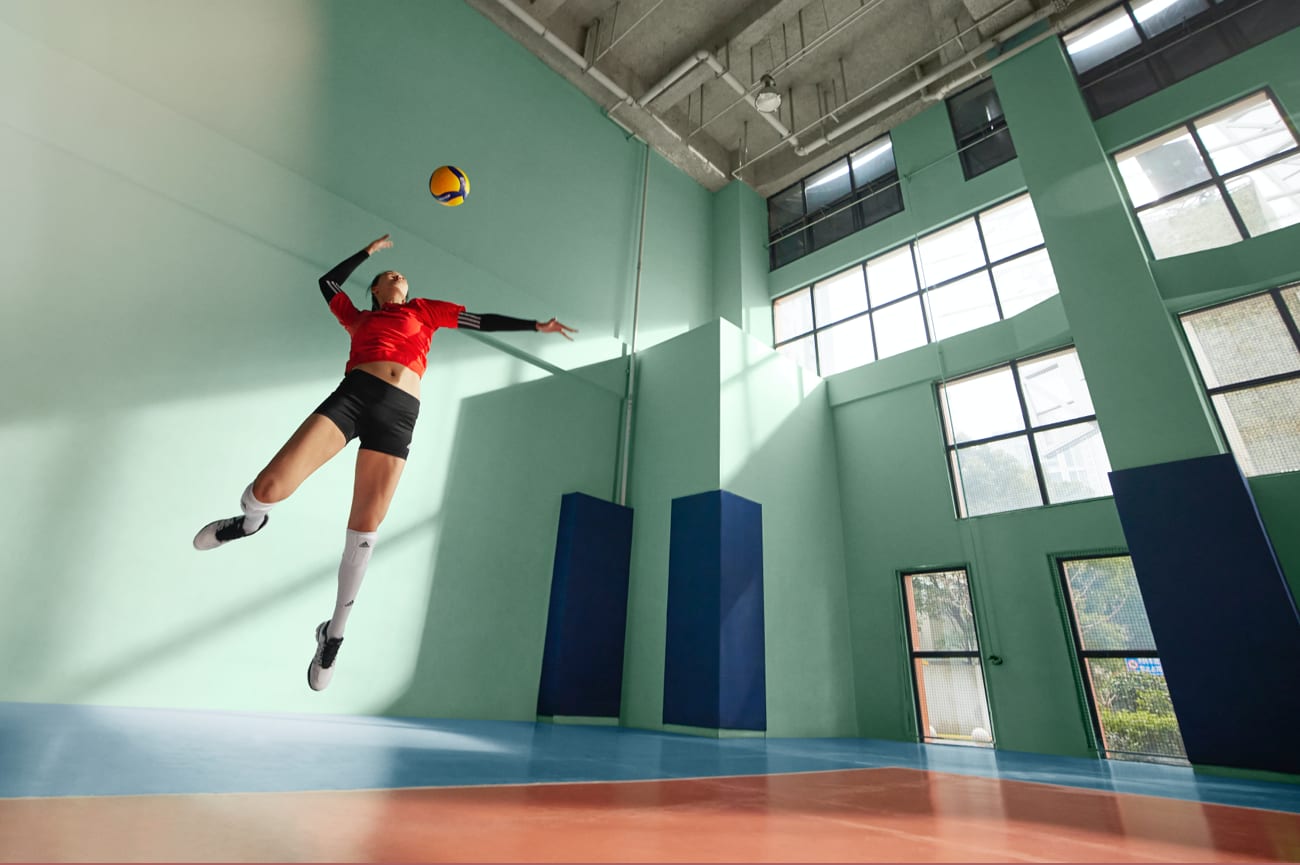 How Are Volleyball Shoes Different?
A common misconception is that volleyball shoes are the same as basketball shoes. "Volleyball shoes are different," Daniel says. "They're ultra lightweight and crafted to provide lateral support. They benefit from both the lightness of a running shoe, and the support of a basketball shoe for all the jumping involved."
Volleyball demands a lot of sharp movements back and forth on a surface that is likely to be very smooth. "The special indoor rubber on the outsole of volleyball shoes provides good grip and heat abrasion resistance so they don't wear away," Daniel explains. They also cannot be worn outdoors. "As good as they might look on, you should only wear volleyball shoes indoors. They are crafted for smooth flooring, so any concrete could cause damage to the specially designed sole."
Volleyball players spend a lot of time on the balls of their feet and their toes, so adidas volleyball shoes also feature TPU foils made of recycled plastic around the toe area. This protects the shoe from abrasion through dragging, and the wearer from slipping.
What To Look For in Volleyball Shoes
To ensure you make the right choice when choosing volleyball shoes, there are three main things to look out for: support, stability and comfort.
Support
Firstly, the outsole should have rounded edges to prevent twisting the ankle during side-cut movements and landing. "The higher you can jump, the better you'll play," Daniel says. "So you've got to find shoes that will provide explosive energy to support your jumps and dynamic cushioning as you land."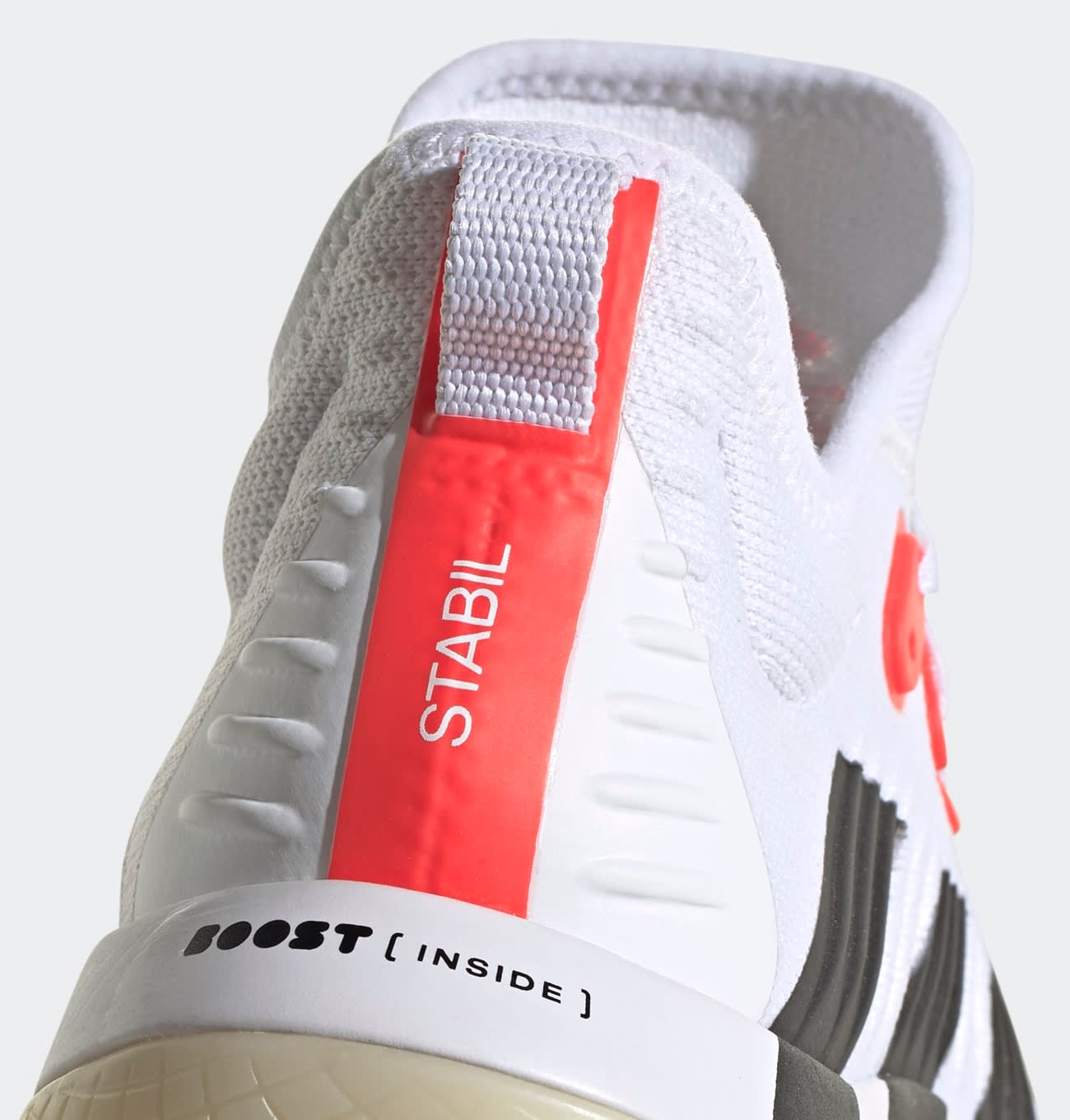 Stability
Due to all the rapid movements in different directions, stability is paramount. You'll need shoes that will provide good ankle support so that you don't twist them when landing. "Look out for indoor trainers that are purpose-built for stabilisation, comfort and style," Daniel explains. "Every dash and change of direction should be stabilised - so you should look for features like reinforced ankle cuffs, lateral stabilisation on the midsole, an EVA stabilisation frame (for lateral stability and mid-foot support), 360-degree traction pattern soles and radiused outer edges."
Comfort
Players play better when they're comfortable, which is why the right level of cushioning and breathability are crucial factors to consider when choosing your shoes. Too little cushioning will result in the player wearing themselves out too quickly due to discomfort, while too much cushioning will result in energy being absorbed by the shoe. A well-balanced level of cushioning will ensure you keep going strong till the end of the game.
How Should Volleyball Shoes Fit?
A great-fitting pair of volleyball shoes should feel like they're not even on your feet when you're moving around. "You need to feel secure, stable and well locked in," Daniel explains. "At the same time, you need to have enough freedom of movement so you can jump with force." Your ankle should be well supported, and you should feel comfortable darting in different directions without slipping.
Pinching and rubbing are signs of an ill-fitting shoe, so make sure you get the size right before your purchase. If in doubt, refer to our size guide for footwear when buying online.
Which Volleyball Shoe Is Right For The Position I Play?
Middle blocker/hitters
Middle blockers act as a first line of defence from an opponent's attacks, but also do a fair bit of attacking themselves. For this position, Daniel recommends referring to your preference, size and height. "If you're a bit bigger, you'd go for Stabil so that you're kept stable and supported during gameplay, reducing any risk to your joints and knees," Daniel says. "If you're lighter and more agile, I'd recommend a pair of Crazyflight shoes to aid the high jumps for blocking shots." Both Crazyflight and Stabil shoes have Boost technology for incredible energy return.
Setter
The setter is in charge of the team's offence and points strategy, similar to what a quarterback in a football team and a points guard in a basketball team might do. "Setters have to be at the net all the time, jumping frequently and moving quickly," Daniel says. "In this instance, I would recommend Crazyflight trainers, as they are light but facilitate quick movement."
Outside hitter
On the left side of the court, the outside hitter hits and blocks. "As both attack and defence, the outside hitters will dart around in diagonals, running and jumping throughout the game," Daniel says. "Crazyflight trainers are the right choice here, for their lightweight design and responsive Boost cushioning."
Opposite/Right side hitters
On the right side of the court, an opposite hitter is the most versatile of all as they act as both a setter and an outside hitter. "Crazyflight trainers would work best for them too," Daniel says.
Libero
Working in defence, a libero plays at the back of the court, keeping the ball in play and the rally going. "A libero has to move very quickly to make their passes, so I would recommend Stabil trainers to keep them secure and supported as they shift direction," Daniel advises.
How long do volleyball shoes last?
Replacing your shoes regularly is crucial to preventing injury. How long volleyball shoes last depends on how often you play. Keep an eye on wear and tear and how your foot feels when wearing them. For example, your foot slipping around inside the shoe is a clear sign that they need replacing.
"Generally, if you play twice a week, you might just need 1 pair per season," Daniel says. "If you play 3-4 times a week, I would recommend replacing them twice per season. If you play everyday, you might need three pairs per season."
Stay Updated
Be the first to know all about stories, launches and events.