10 WORKOUT TIPS THAT WILL MAKE YOU HAPPIER
We have a challenge for you, next time you feel like your glass is half empty, forget therapy, doctors or pills, exercise is proven to help combat depression. Not convinced? We've only just started, read on for more.
What would make you happy right now? A massage? A raise? How about some push-ups? Well, exercise can lift moods and calm minds. So, when you break a sweat, you'll be fighting the blues too.
EVIDENCE
Sweating can be a bit messy but generally leaves you happier. Don't believe us? Well we have the stats to prove so. A 2012 study in the Journal of Sport and Exercise Psychology from researchers of Penn State University tracked the daily activities of 190 college students who were asked to track their physical activity (15 minutes or more) over an eight-day period. The people who were more physically active had greater feelings of enthusiasm and excitement then when compared with less active individuals.
1. MEDITATION IS A MUST
A lot of fitness content these days is focused on being active and working out, in the gym or in your home, however staying still is also key. Meditating and finding a quiet place to focus on your thoughts and breathing is imperative to destressing and sleeping better, both key for your overall happiness.
2. EXERCISE REGULARLY
Consistency is key. Key to making significant progress and reaching your goals on time. When maintaining a positive body image, after you put the work in and see your results improve, you're bound to have an extra spring in your step.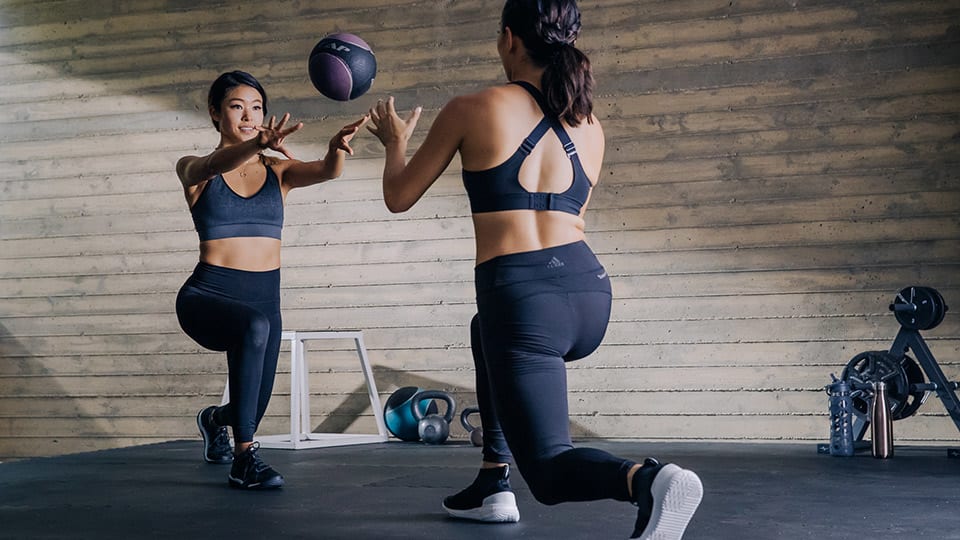 3. VARY YOUR WORKOUTS
Variation is key to staying motivated, focused and ensuring you are not bored with your regime. Trying something new and conquering a gruelling workout can result in more endomorphins being released, happiness because you were able to overcome and battle through a tough session.
4. WORK OUT WITH A FRIEND
Having a support system or a workout buddy can also help improve your mood. With a friend or more to go with, this can help motivate you to work out when you're not totally motivated, they also can help you improve your form and gives a real sense of teamwork. Sometimes working out late and the journey home can feel a little lonely, having a trusted pal around is bound to keep your spirits up.
5. SET REALISTIC GOALS
Having a look at the latest health & fitness magazines aren't true reflections of life and are not worth comparing to. The same goes for fitness models on Instagram, it's not a race you're competing with other people, it's your own path for YOUR body. Set targets that you can achieve, which will make you happier when you reach them, rather than being unrealistic and feeling down if and when you cannot reach your goal in time. Believe in yourself but remember success takes time, what you see on the cover of a fitness magazine may not be your truth, yet with hard work you can get there.
6. CHANGE YOUR ENVIRONMENT
Your motivation towards your workout is bound to dip if you are doing the same routines in the same environment over and over again. Exercising outdoors is a fun way of keeping your workouts interesting, explore and immerse yourself in different situations unless you want the same results.
7. SWIMMING
Water is relaxing, soothing and can even help us help fall asleep. So, it's no surprise getting in the pool and doing some laps is a great way to make you happier. It keeps your heart rate up, takes some of the impact stress of your body and helps maintain a healthy heart and lungs. Swimming also tones muscles and building strength, a nice reminder you have don't exclusively use weights and dumbbells to increase your mass.
8. YOGA
Yoga keeps the mind and body engaged and also puts you in a positive state of mind, a study in 2017 proved to this be true after tracking the levels of depression in a group of full of yogi participants who had MDD (Major Depressive Order).
A study conducted by researchers from the Boston University School of Medicine found that increased yoga activity amongst individuals lowered the rate of depression in patients. A team of medical experts tested 30 subjects ranging from 18-64 years old who had MDD and participated in yoga sessions and coherent breathing exercises over a 12-week period. The results of this experiment showed that regardless of frequency (HDG – High Dose Group – three times a week and LDG – Low Dose Group - two times a week), depressive symptoms declined significantly.
9. BIKING
A study by YMCA in 2017 which questioned 1,000 adults in the UK showed that active individuals who cycled had an average increase of 13% in their wellbeing. A plethora of factors amounted to this rating of wellbeing, such as feeling cheerful and being optimistic about the future. So, hop on the bike and hit the open road to encourage health and happiness.
10. GET TRAINED
We have all thought about it, signing up for a gym and then weighing up the pros and cons of the personal trainer package. 'Is it too expensive'? 'Will the trainer be a nightmare'?' Can I even be bothered to go?' Those thoughts are normal but working out with a trained expert can help achieve extraordinary results. You get to know more about your body in-depth, can reduce the loss of injury by using correct form and you can get to your goal significantly quicker. These are all positives that will have you feeling great, when you make progress with your program.
CONCLUSION
All in all, it's important to know you have a plethora of options to increase your morale when working out. You don't have to feel pressured to try all of them, you can select just a few but the ones that appeal the most to you. It's your body, so naturally it should be your choice. With the steps above, you can make your next workout, your best workout.
Stay Updated
Be the first to know all about stories, launches and events.