CHALKING ONE UP FOR THE FAMILY
When three-year-old Shauna Coxsey asked if she could go climbing, her family knew nothing about the sport. But that hasn't stopped her becoming the UK's most successful competition climber ever, who now has the ultimate gold medal in her sights.
Shauna Coxsey is a genuine mould-breaker. The UK's most successful competition climber, she's been on the Bouldering World Cup podium a staggering thirty occasions and brought home the gold medal eleven of those times. In 2016 she was awarded an MBE by the Queen for her services to climbing and country, and this year is set to compete in Tokyo, where climbing is making its debut. Climbing's International Federation had long lobbied for the sport's inclusion, arguing it would be an exhilarating addition to the summer Games programme. "It's incredibly exciting," Shauna said of the decision. "I never thought I'd see climbing become part of the Games in my professional career."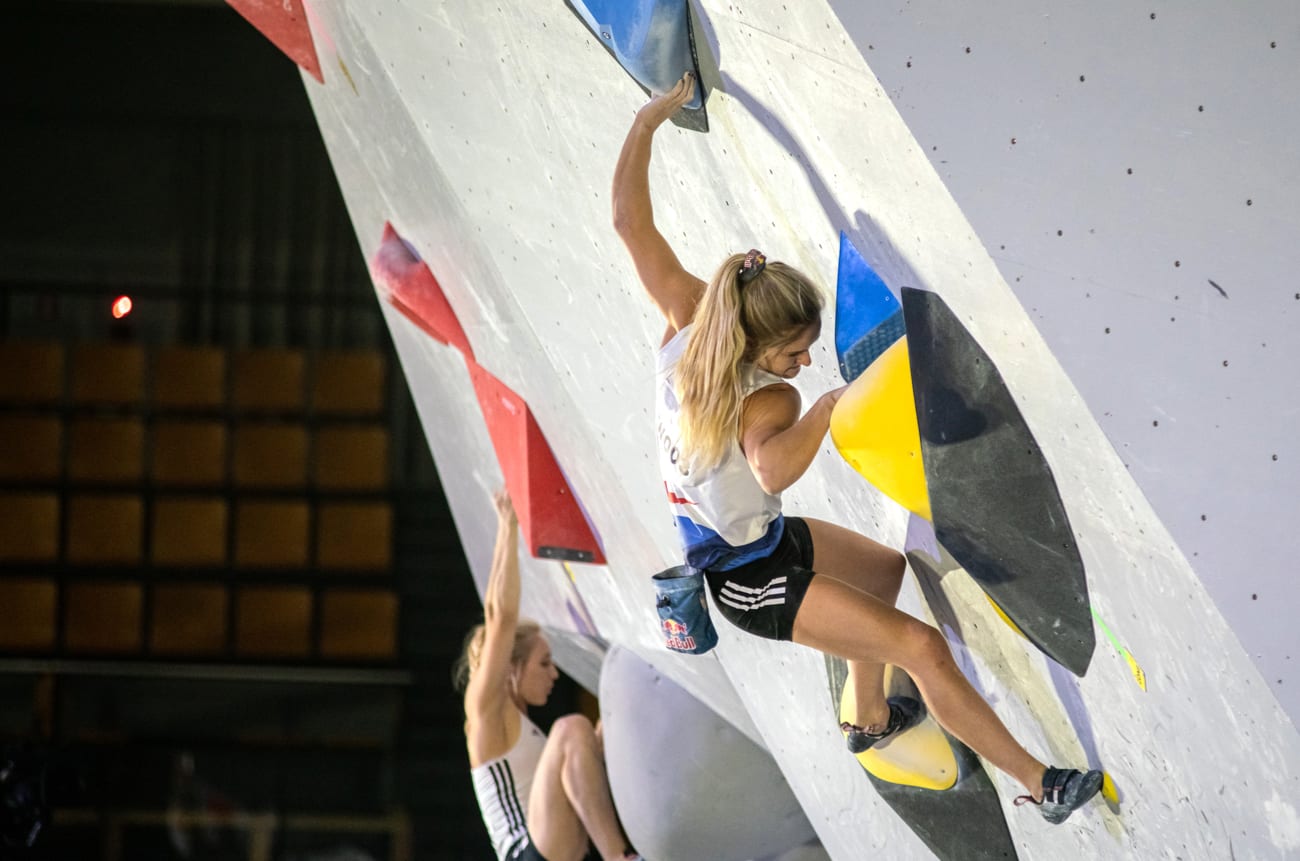 If you can define the physical and mental attributes required for athletic success then unsurprisingly Shauna has them all: Raw talent. Laser focus. An ability to recover from setbacks. Yet despite her almost inhuman ability to cling to a rock-face by her fingertips, could it be Shauna's family that are her strongest superpower? As the youngest of six siblings, Shauna has been able to draw from deep wells of family support and enthusiasm for her climbing from an early age, even when serious injury stopped her in her tracks. She may be the only one on the wall - she is anything but alone.
PLANNING HER ROUTE
When Shauna was three years old, she was sitting on her dad's knee watching the iconic French climber Catherine Destivelle free soloing a sandstone cliff in Mali. She pointed at the TV and said: "Can I do that?" In truth her dad had no idea. He wasn't a climber and didn't know any climbers; he had no connections in the sport. But he took her to the nearest climbing wall and she was hooked right away, declaring later that this was what she wanted to do with her life.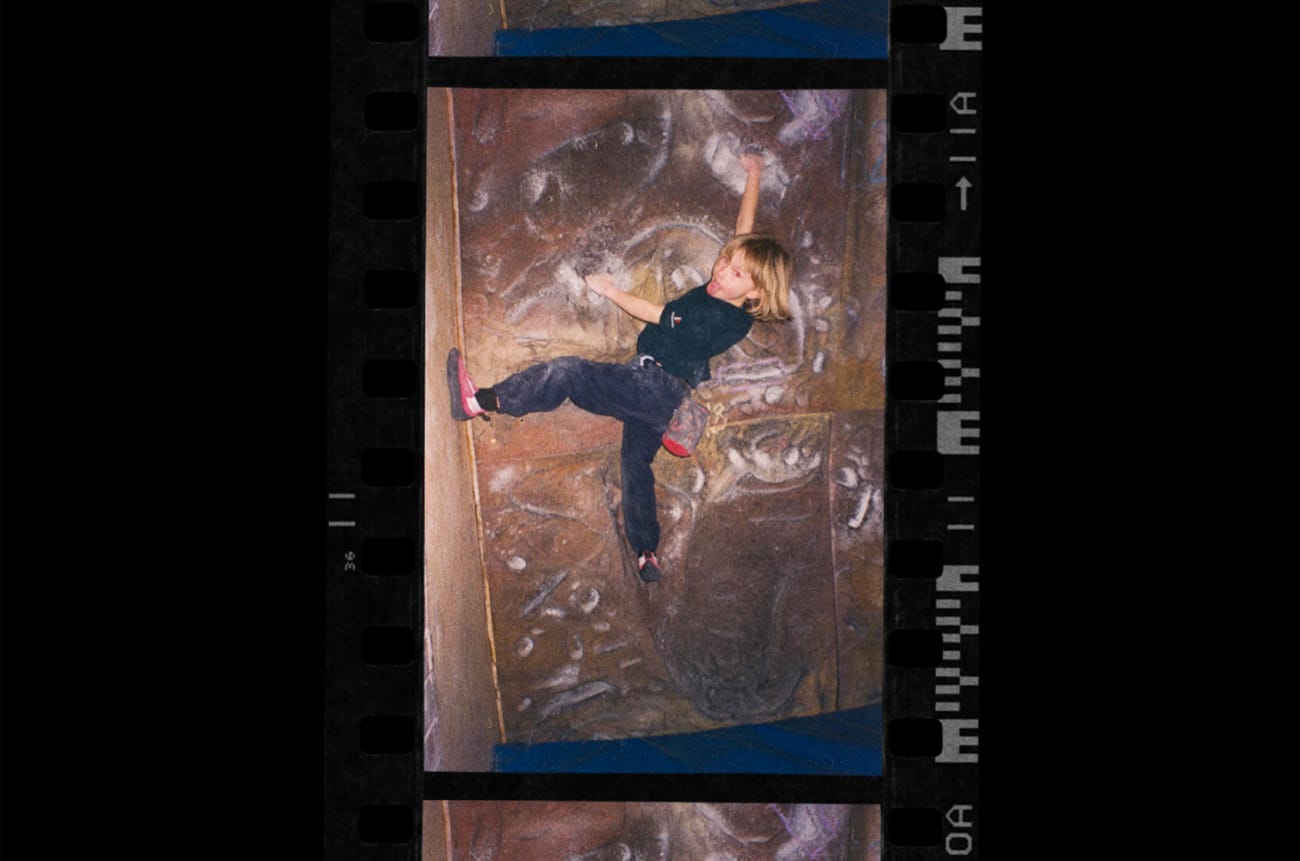 Participation in the sport was low at the time and indoor facilities were still not common in the UK, but that didn't stop Shauna starting out on the journey anyway with the full support of her dad and sisters. They gave up weekends and holiday time to take her climbing as much as possible, travelling around the UK to attend competitions. Her dad Mike even learnt to belay (the support climber on the ground who manages the safety rope) so she wouldn't have to queue at the kids' classes. She won her first contest at nine and by 13 was competing on the international junior circuit. She also started ticking off super-tricky boulder routes that no British woman had ever done before.
I was always social and had lots of friends, but climbing came first, it was what I wanted to do.
Shauna was starting to dedicate her life to climbing, but she never saw it as a sacrifice. "I was always social and had lots of friends," she said. "But climbing came first, it was what I wanted to do." However she still wasn't sure she could risk trying to make a living from it, so Shauna made sure she worked hard at school and got a place at university, which she then deferred to give full-time climbing a go.
POSITIVITY AS A CHOICE
Shauna never looked back, despite breaking her leg a month into that decision. It wasn't the first injury she'd suffered, and it certainly wouldn't be the last - an inevitable consequence of climbing with the full-throttle intensity she's always brought to the sport. This is also no doubt one of the reasons she's been so dominant in the scene. Yet Shauna has always been very philosophical about her climbing injuries, and even goes as far as seeing them as opportunities.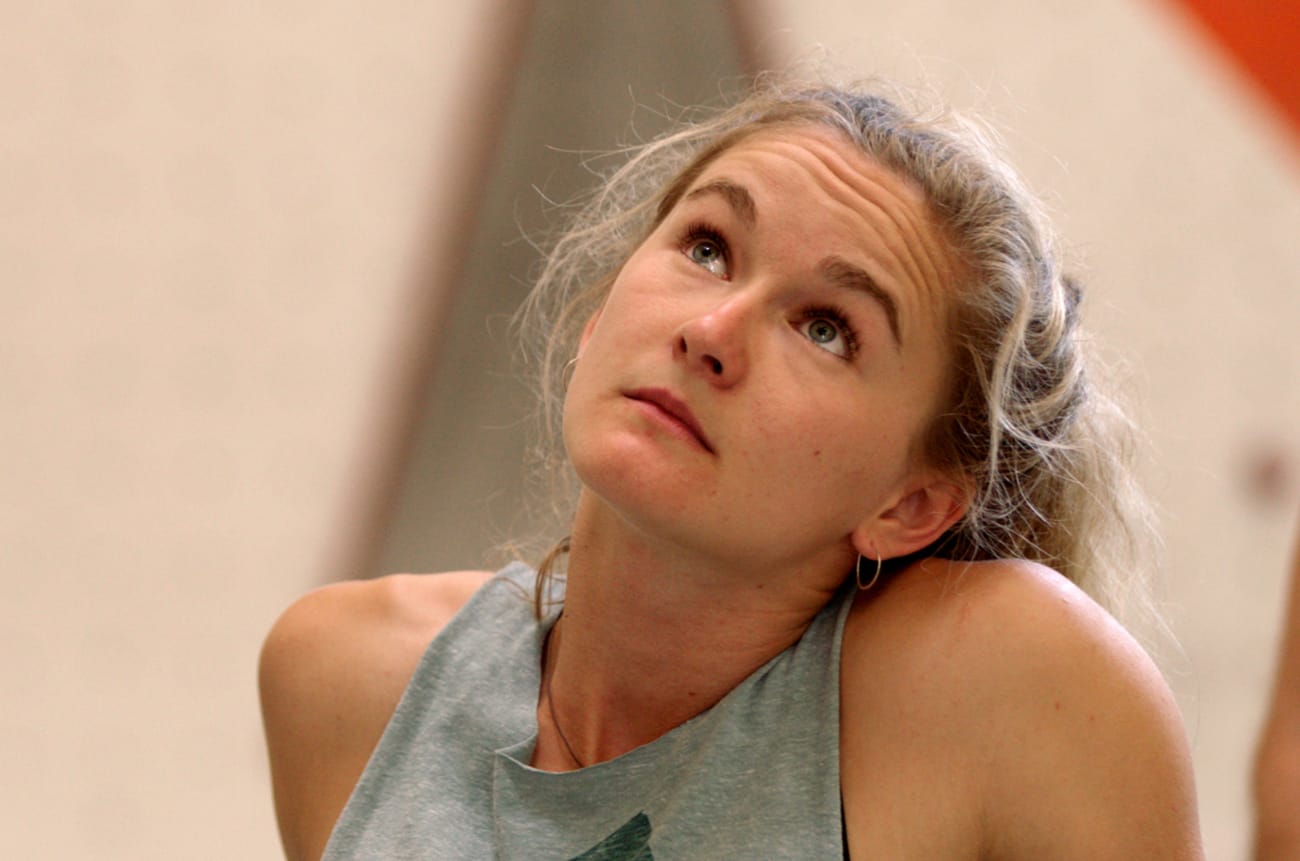 "It's not a case of 'not breaking' in elite sport, as it's part of the game," she says. "It's more a case of how you deal with it. I just seem to cope with injuries somehow. I'll get frustrated for maybe five minutes max, but I don't have time to waste energy being annoyed."
A positive mindset is like anything. The more you practice, the better you get.
For Shauna, that mindset is a choice, rather than an ability she was born with. "It's like anything, the more you practise the better you get. I am one of those really annoying positive people, but that's also a conscious choice, I choose to have a positive outlook. It doesn't necessarily come naturally, but anybody can do it if they work at it." She describes her dad as an eternal optimist, who was full of enthusiasm, which she found both helpful and contagious. And from an early age he'd encouraged her to reflect on what she'd done and where she was at.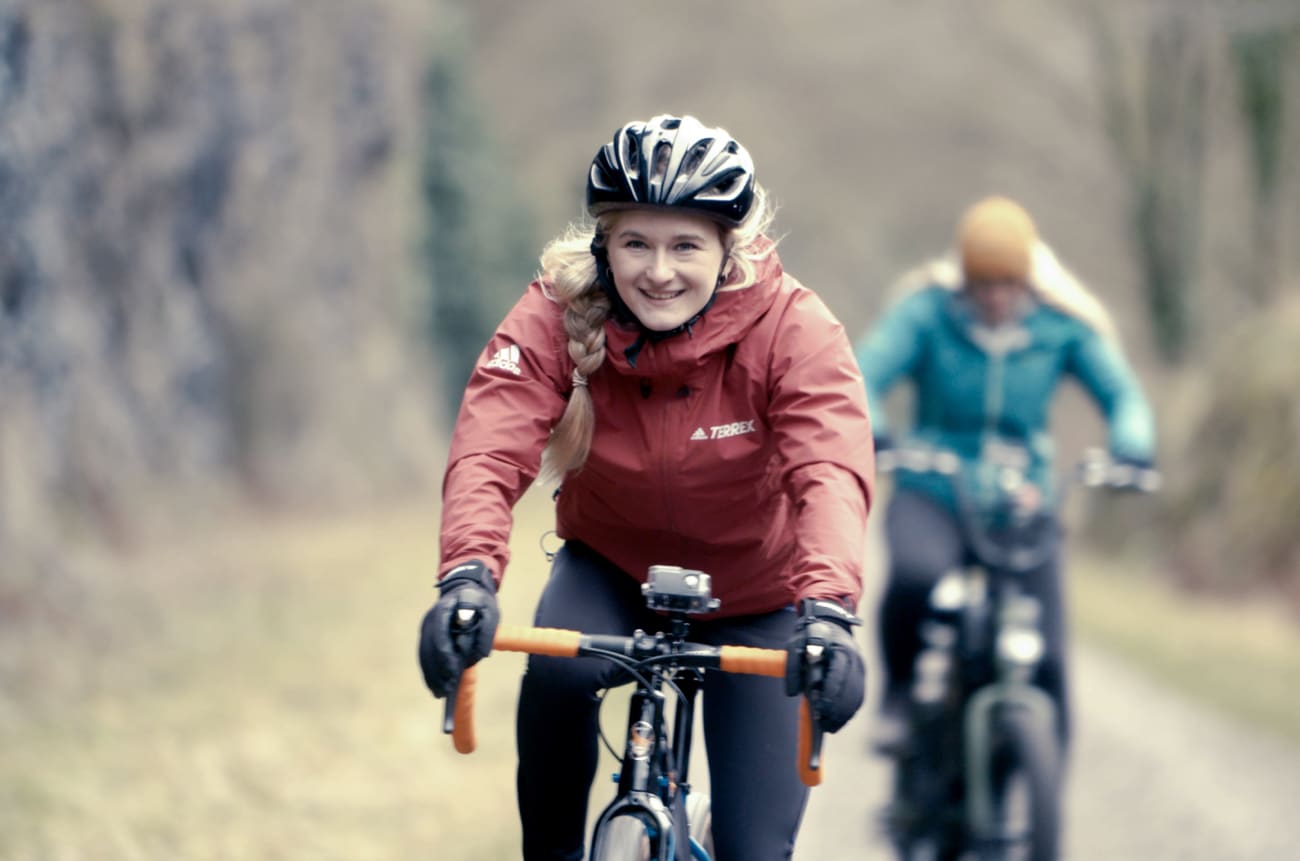 "It's hard being sat out on the sidelines. But that perspective you gain, from taking that step back from the world that you're so absorbed in, is so refreshing and invaluable. You really evaluate your life. As soon as you get an injury your attention has to shift from what you were doing, to what you can still be doing and putting your energy into it."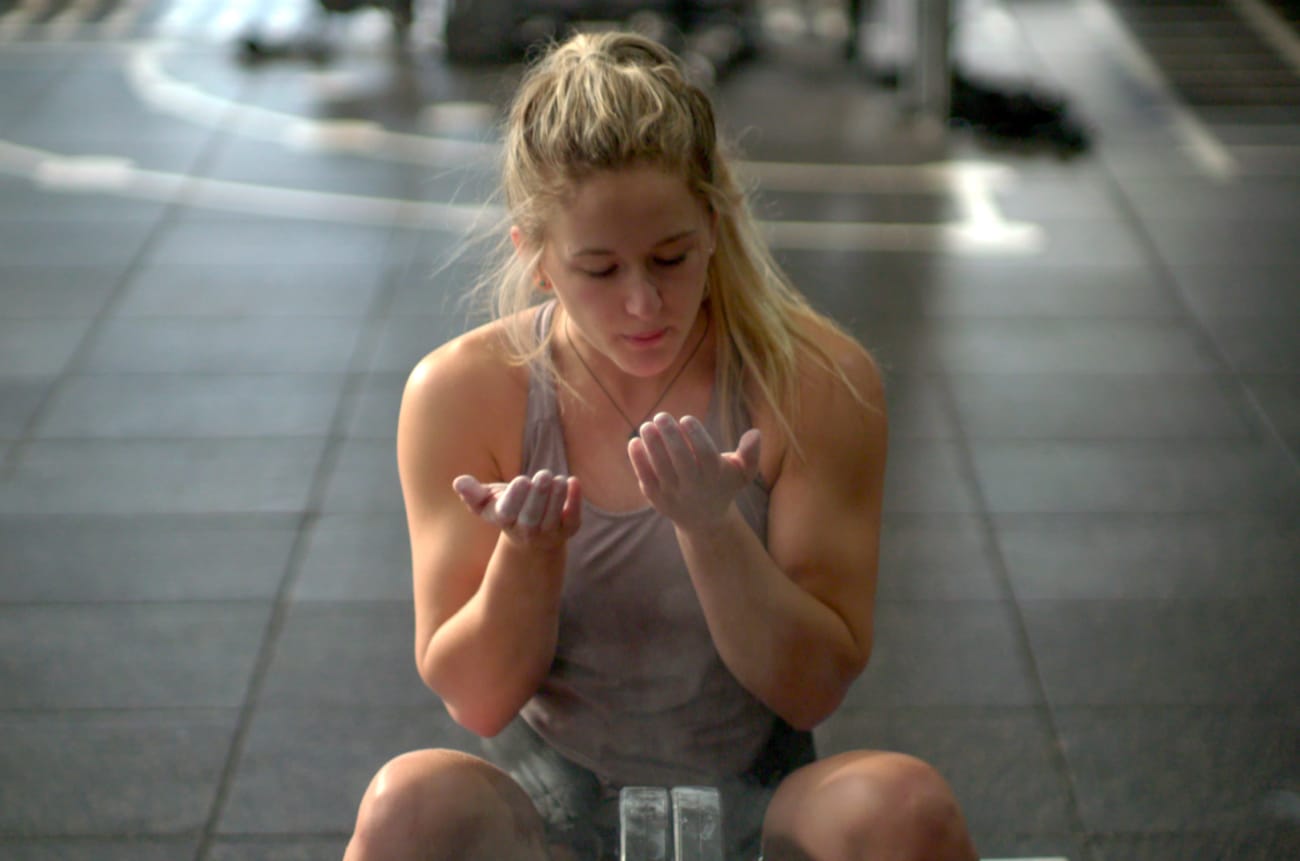 It was during one of her early injury breaks that Shauna decided to really focus on Sport climbing. She was watching London 2012's 'Super Saturday' by herself at home with "a flask of tea and lunch in tupperware", feeling a bit miserable as all her family had gone down to the event but she couldn't travel because of her injury. As Team GB's medal haul came in, she knew she wanted that level of success but couldn't do it alone. Her family had helped her so much until then, but she now needed to build a strong professional support team around her.
I decided I would no longer be a dirtbag climber, but an athlete with the aim of becoming the best version of myself possible.
"I decided I would no longer be a dirtbag climber, but an athlete with the aim of becoming the best version of myself possible," she says. Shauna's career skyrocketed from that point. She also used some spare energy to organise an event to encourage more women into climbing. Working with friend and climbing gym director Steph Meysner they started the Women's Climbing Symposium.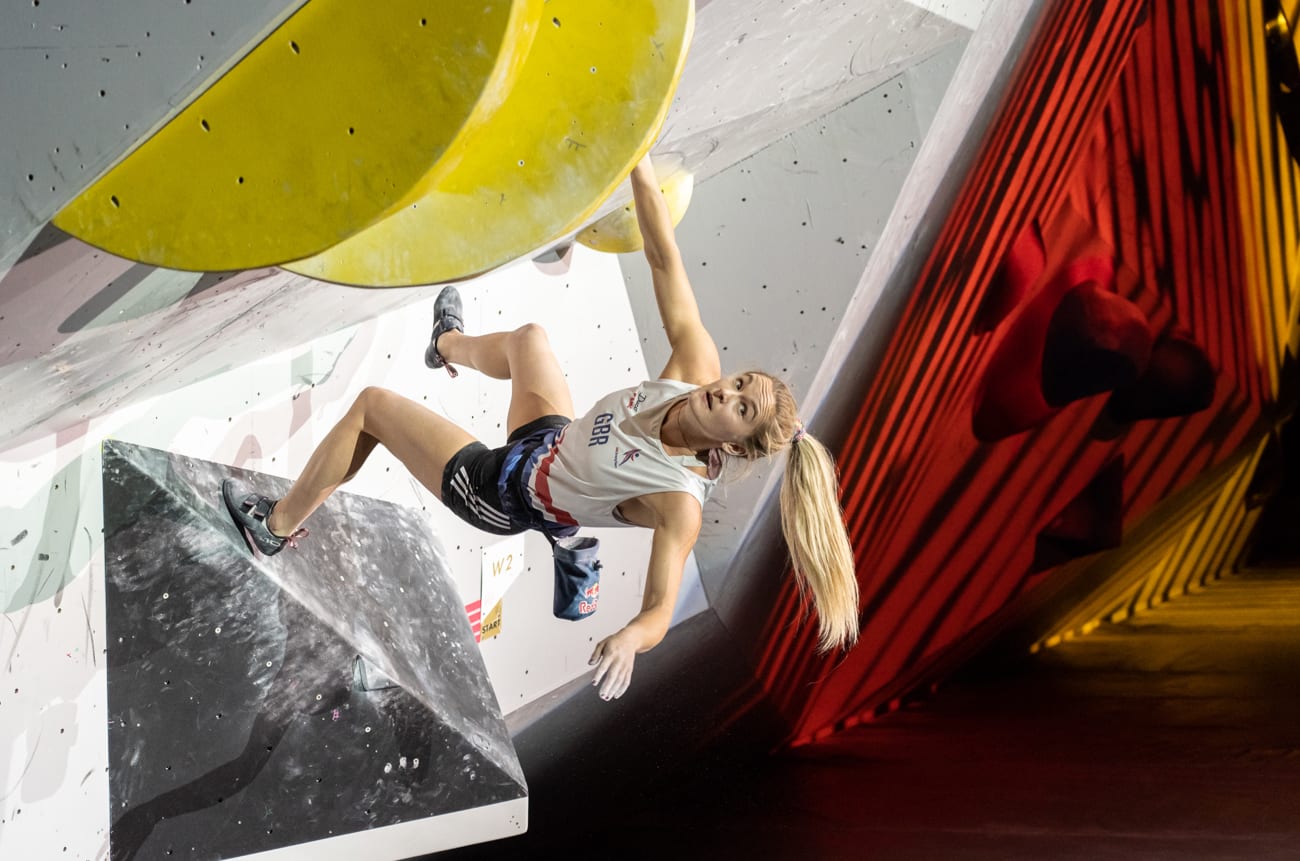 INSPIRING A GENERATION OF WOMEN CLIMBERS
"I remember going to the climbing wall and it being rare to see other women," says Shauna, "Now it is so popular." She had been so singular in her climbing focus, she hadn't realised the barriers so many women faced in the sport until she started coaching a climbing class in Liverpool and heard the many overlapping stories. Some women were nervous about climbing when they had their period, others about climbing in front of their boyfriends and being stronger than them, while some were concerned about getting big muscles. She set up the Women's Climbing Symposium to break down these barriers and give something back to the sport that had given her so much.
I always leave the Women's Climbing Symposium super-psyched by all the women trying hard and achieving their goals.
Ten years on, the event is less about addressing the obstacles that put women off climbing, and more about celebrating their inclusion, as well as sharing that positivity around. "We put so much effort into it, it should be stressful," says Shauna. "But it isn't, I always leave super-psyched by all the women who are trying hard and achieving their goals."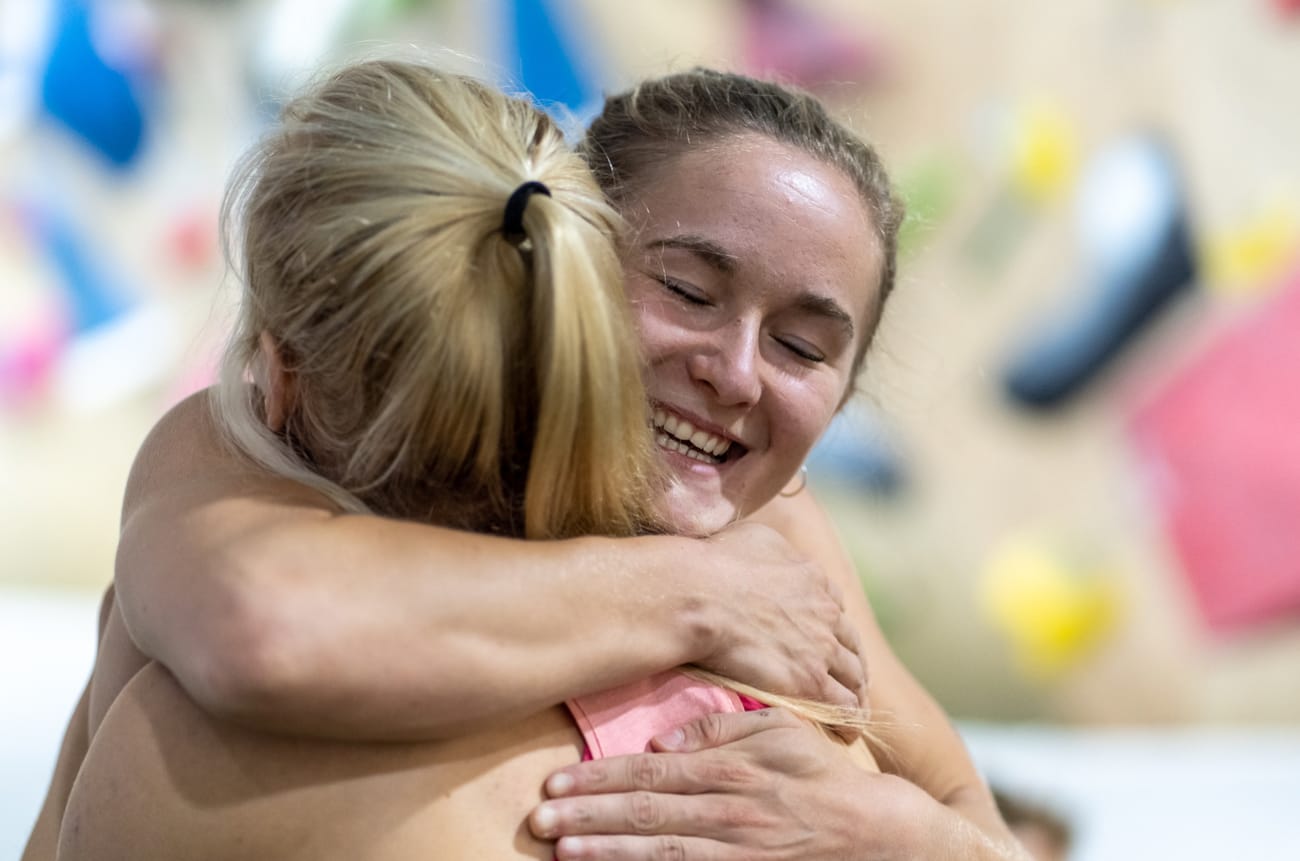 TOKYO CALLING
Ahead of Tokyo, Shauna had been working incredibly hard to get back to full fitness. "If you get injured and you still want that gold medal, you've got to work a lot harder to get there," she says. She doesn't think being injured and coming back is a weakness. "I don't see it as something that makes you weaker than the person you are competing against, it makes you stronger. And when you haven't gotten to the top of a wall for a long time, that simple thing feels like a big win."
Like everyone, she had to put that strength on pause during Covid times, and perhaps even benefited from the extra time away from contests, though she also took the chance to get a niggling wrist problem fixed. For Shauna these injuries are always opportunities for improvement, a physical upgrade. She says: "Every rehab session it's about giving that max effort and trying as hard as possible to make the gains where they can be made." In Speed climbing, she's currently going faster than she ever has before.
In all she does Shauna shows the mental courage, positivity and down-to-earth attitude that goes a long way to explaining the strength and longevity of her unlikely but extraordinary career - success which her family have also never let go to her head! They insist she makes cups of tea for everyone when they're all together. They love teasing her when she's on television and are already preparing their banter for Tokyo.
How this summer will play out remains to be seen. As her coach says: "If we're talking about optimal prep this isn't it, but Shauna is undoubtedly tough and always seems to deal well with pressure." She has a reputation for doing the hardest moves in the world and making them look easy, exuding a zen-like calm as she recognises the hidden patterns in a route-sequence and adapts her moves accordingly.
It is this competition with the wall that continues to inspire Shauna. "It's never been about beating people," she says. "My mindset is 'What can I achieve on this wall?' If my best is good enough to win, then great."
MAXIMISE YOUR CLIMB
The adidas Climbing collection is designed to help you make the most out of every single climb, no matter what life throws at you. Explore it now and maximise your climb.
Stay Updated
Be the first to know all about stories, launches and events.