FC INTERNATIONALE BERLIN
Founded in 1980 by a committed group of players in Berlin's Schöneberg district, FC Internationale Berlin's mission was to play football at a respected level, with community values and a simple love for the game being core driving forces behind any action on the pitch. This simple idea has survived to this day, and uniquely for a club in their position, no player at FC Internationale gets paid to play; instead turning up and representing the club to show their support, and comradery with fellow players.
EVERYONE IS WELCOME
The club has an open door policy that welcomes anyone who wants to play, and it's a philosophy which runs through the club at all levels, and across men's and women's football from youth up to a seniors team comprising players aged over 60.

In 2013, the club won the DFB's Integration Award, recognising the integration of players of more than 40 different nationalities and cultures into FC Internationale Berlin's youth and senior teams. Now a partner of adidas Football Collective, the club are looking to improve their infrastructure and accelerate their inclusive projects through support and new partnerships, whilst using the platform to instill their values beyond the local community.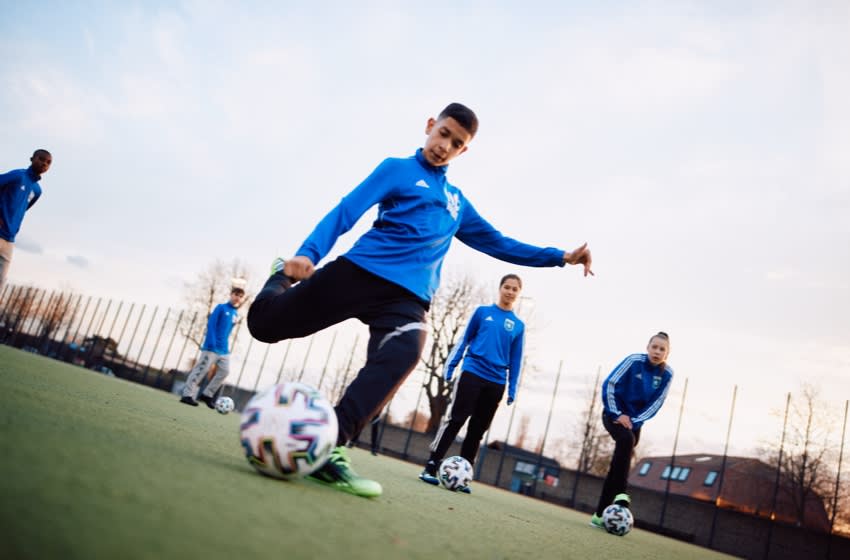 A CLUB WITH PURPOSE
The words 'No Racism' have adorned the front of FC Internationale Berlin's shirts since the 90's, and there's no room for compromise on this message. Self-confident and clear on the attitude each jersey represents, they give players a strong political statement they can get behind, while other clubs opt for commercial sponsorship. In doing this the club have demonstrated decade after decade that it is still possible for a number of its teams to play in Berlin's highest leagues without compromising what they stand for.
From a young age, everyone is made aware that they will not be discriminated against for their origin, language or skin colour
Berliner Abendblatt
Through the Intercultural Cup, which they host each year, the club works hard to integrate different cultures through football and demonstrate how the sport can provide an inclusive space. This tournament underscores the club's commitment to ensuring peaceful coexistence across cultural, religious and ideological boundaries.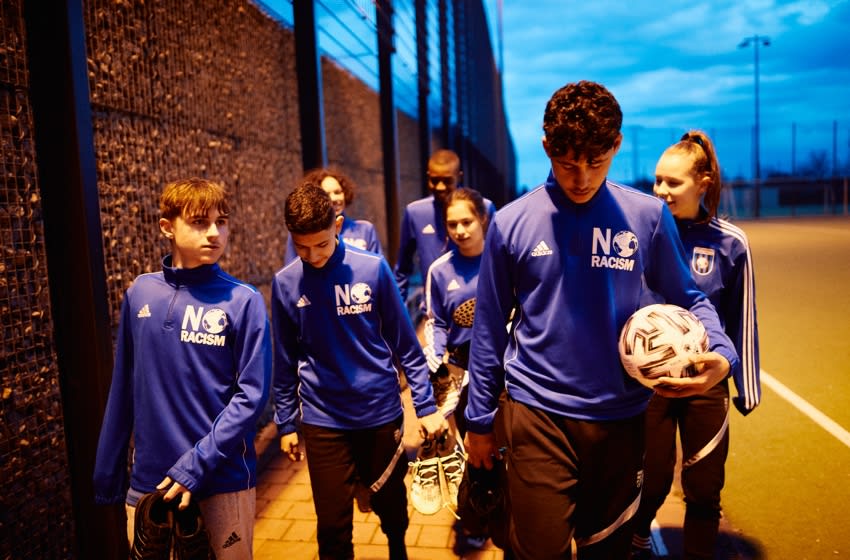 A BRIGHT FUTURE
As the first amateur club in Germany to be awarded for their sustainable approach to the game, FC Internationale Berlin's socially conscious values extend beyond the local community and its people, and into all parts of the club. After running successful holiday camps and supporting social initiatives both in and outside of the game, they hope that their partnership with adidas Football Collective will enable them to continue building on the rich inclusive legacy they've created over the last 30 years.

Discover more stories from the adidas Football Collective.
Stay Updated
Be the first to know all about stories, launches and events.