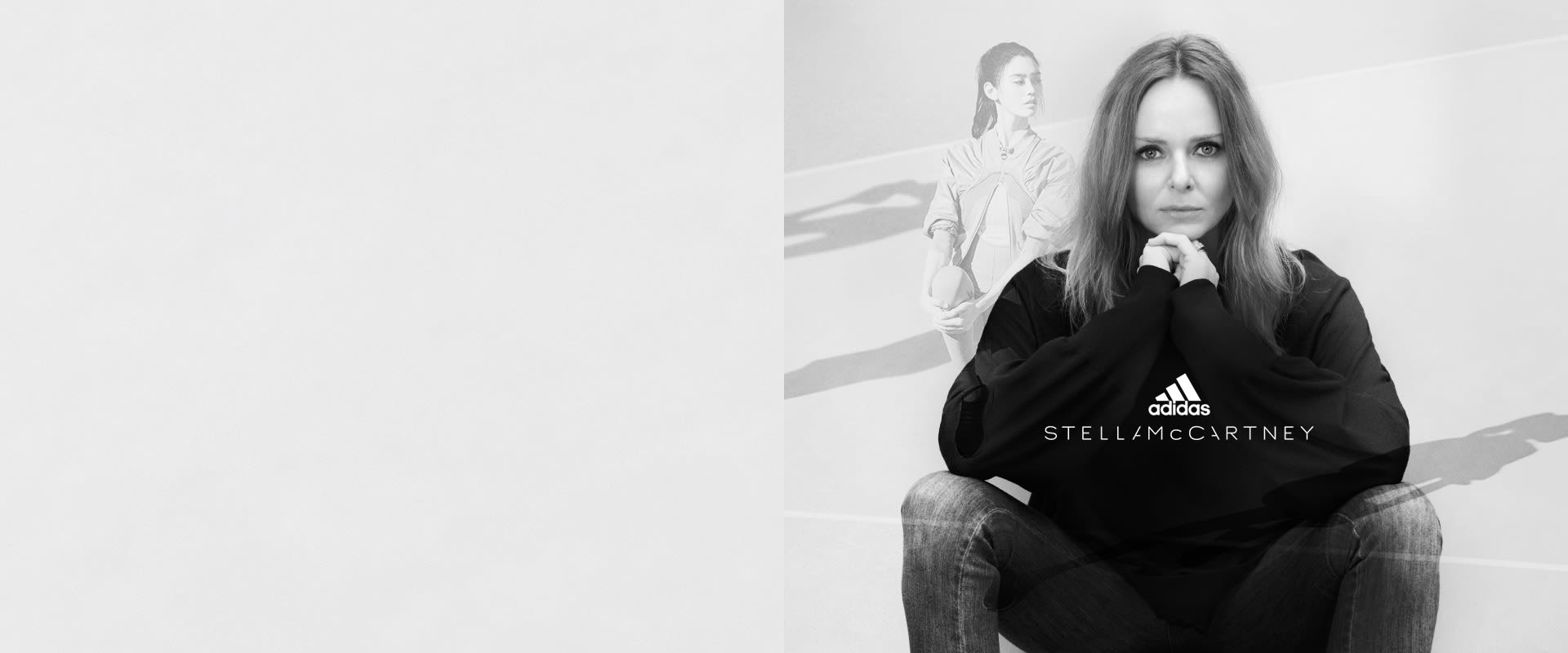 CREATING CHANGE WITH STELLA MCCARTNEY
Stella McCartney has been collaborating with adidas for more than a decade. The designer's uncompromising convictions are ever-present in the Spring-Summer '19 collection, which is all about bringing sports, wellness, and—crucially—sustainability into women's lives.
HOW HAS YOUR OWN ATHLETIC PRACTICE INFORMED THE COLLECTIONS?
SMC: Yoga and running were already successful women's categories for adidas. I wanted to open things up. I also wanted the pieces to reflect how we actually live. Working into women's lives is what makes us modern. What does it look like for you as a woman if you live in the city and ride your bike to work? What about safety for women running? We answer those questions.

"Working into women's lives is what makes us modern."
YOU HAVE BEEN PARTICULARLY VOCAL ABOUT WASTE IN THE FASHION INDUSTRY. LET'S TALK ABOUT SUSTAINABILITY.
SMC: I am really proud of the fact that over 70% of the Spring-Summer '19 collection is sustainable. We have continued to raise the bar for sustainability every season, and we want the numbers to keep ticking up. Pushing boundaries is at the core of everything we do at Stella McCartney and I think it also matters to adidas. This part of the collaboration is very successful and authentic. This is what the future of fashion should look like, and we want to keep creating positive change by taking steps to reduce waste and use recycled materials like Parley Ocean Plastic®. It shouldn't be hard. We want to make the sustainable component effortless for the women who come to us.
HOW DOES THE RUNWAY MANIFEST IN YOUR LATEST COLLECTION WITH ADIDAS?
SMC: We are women that want to bring fashion into our wardrobe—and that includes athletic wear. This is one of the reasons I started working with adidas. Women's stories were simply not being told, and I wanted to do something about it. We really push to bring the catwalk into the conversation…the colors, the silhouettes. It is definitely not something we shy away from and is a part of how we really talk to women in an authentic way.
WHAT ABOUT TECHNOLOGY?
SMC: Personally, I get pretty excited about the technical side of the pieces. Lycra FitSense+ technology really changes the game in terms of breathability, support, and overall comfort. It just enhances the workout experience. How can you push your boundaries when you are training if you are worried about your waistband sliding down or sweating in a way that makes you uncomfortable? We are really getting body conscious pieces that are still extremely comfortable. This is just one of a million ways we look at the technical side of the pieces.
"We want to make the sustainable component effortless."
DO YOU HAVE ANY FAVORITES FROM THIS COLLECTION?
SMC: Basically if I don't love it, it doesn't get made, so I am the worst person to ask! I wear the leggings and the Boost sneakers every single day. Seriously, I love the accessories, the cross body bags—they take you right from the street into your sports. And the knits, really body conscious yet comfortable and easy to wear. And I am a huge fan of the AlphaEdge 4D sneaker. We have been working on the technology for years, and it is so exciting to finally get it into the women's market. I love all of it, really!- the limited edition AlphaEdge 4D sneakers will be in select stores and .com on April 15th.